Exporting Results
Mindbreeze InSpire
Copyright ©
Mindbreeze GmbH, A-4020 Linz, 2019.
All rights reserved. All hardware and software names are brand names and/or trademarks of their respective manufacturers.
These documents are strictly confidential. The submission and presentation of these documents does not confer any rights to our software, our services and service outcomes or other protected rights.
The dissemination, publication or reproduction hereof is prohibited.
For ease of readability, gender differentiation has been waived. Corresponding terms and definitions apply within the meaning and intent of the equal treatment principle for both sexes.
.
Introduction
With the Mindbreeze InSpire export interface, search results can be exported as a CSV document. In the user interface, the information that is relevant for the application can be exploratively defined, and then all the information can be exported. Like in other application cases, the permissions and authorizations will be respected and the user will only have the information exported that he is actually allowed to read.
Configuration
The configuration includes:
Enabling/disabling the export functionality
Setting the properties and the maximum batch size
The export can be configured under "Client Services > Export Search Settings".

The following configuration options can be found there:
Export search results enabled
Export servlet enabled
Default exported properties
Maximum export batch size
Default Export Format
Export search results enabled.
Enable this setting to be able to display your search results in a table preview. If enabled, an "export" button appears next to the number of matches. If this functionality should not be provided, it can also be disabled with this setting.

Export servlet enabled
This setting allows you to disable the export, but to display the table preview.

Default exported properties
In this text box you can predefine your properties (comma separated). For example: title,mes:size,extension would display and export the name, the size (for example, 50 kB) and the respective file format (e.g. pdf) of the current search in the table preview.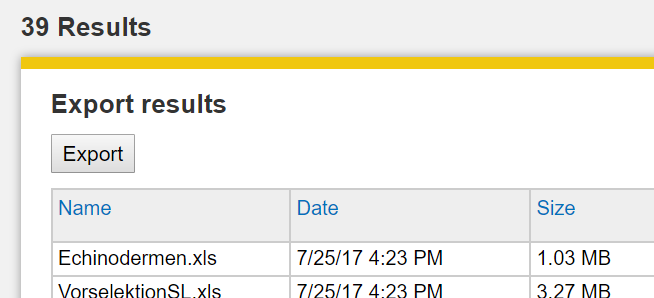 Maximum export batch size
With this setting, it is possible to change the batch size. This setting should be used only when it is actually needed. The default setting is already configured for typical application cases.
Default Exported Format
This option selects the format used when pressing the export button.
The following export formats are supported:
CSV: comma-separeted-values
XLSX: Microsoft Excel
JSON: machine readable format
ZIP: Archive containing a file for each result.
If you want to use a format other than the standard CSV format (XLSX, JSON or ZIP), you must first configure the "Resource Persistence Settings".