Best Bets Connector
Installation and Configuration
Copyright ©
Mindbreeze GmbH, A-4020 Linz, 2018.
All rights reserved. All hardware and software names used are brand names and/or trademarks of their respective manufacturers.
These documents are strictly confidential. The submission and presentation of these documents does not confer any rights to our software, our services and service outcomes, or any other protected rights. The dissemination, publication, or reproduction hereof is prohibited.
For ease of readability, gender differentiation has been waived. Corresponding terms and definitions apply within the meaning and intent of the equal treatment principle for both sexes.
Installation
Before installing the Best Bets connector, make sure that the Mindbreeze server is installed and the Best Bets connector is included in the license. Use the Mindbreeze Management Center to install or update the connector.
Plugin installation via Mindbreeze Management Center
To install the plug-in, open the Mindbreeze Management Center. Select "Configuration" from the menu pane on the left-hand side. Then navigate to the "Plugins" tab. In the "Plugin Management" section, select the appropriate zip file and upload it by clicking the "Upload" button. This automatically installs or updates the connector, as the case may be. In the process, the Mindbreeze services are restarted.
Configuring Mindbreeze
Select the "Advanced" installation method for configuration.
Configuring the index and crawler
To create a new index, navigate to the "Indices" tab and click on the "Add new index" icon in the upper right corner. Alternatively, the "BestBets-Config" plugin can be installed, which automatically executes the rest of the configuration.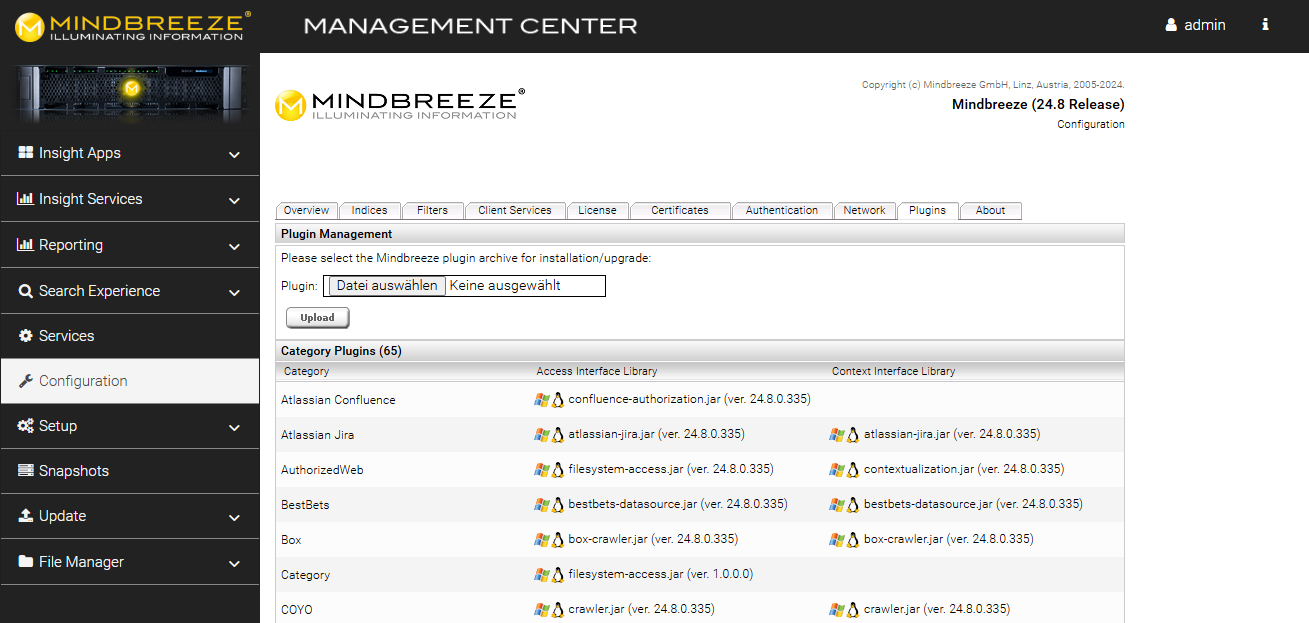 Enter the path to the index and change the display name as necessary.

Add a new data source by clicking the "Add new custom source" icon at the top right. Select the category "BestBets" and configure the data source according to your needs. In the CSV Settings, you can select the desired CSV file stored on the appliance and specify the separator for the individual line entries. Under the Metadata Settings, you can specify which columns of the CSV contain information as a list and which separator is used for the individual entries in the list.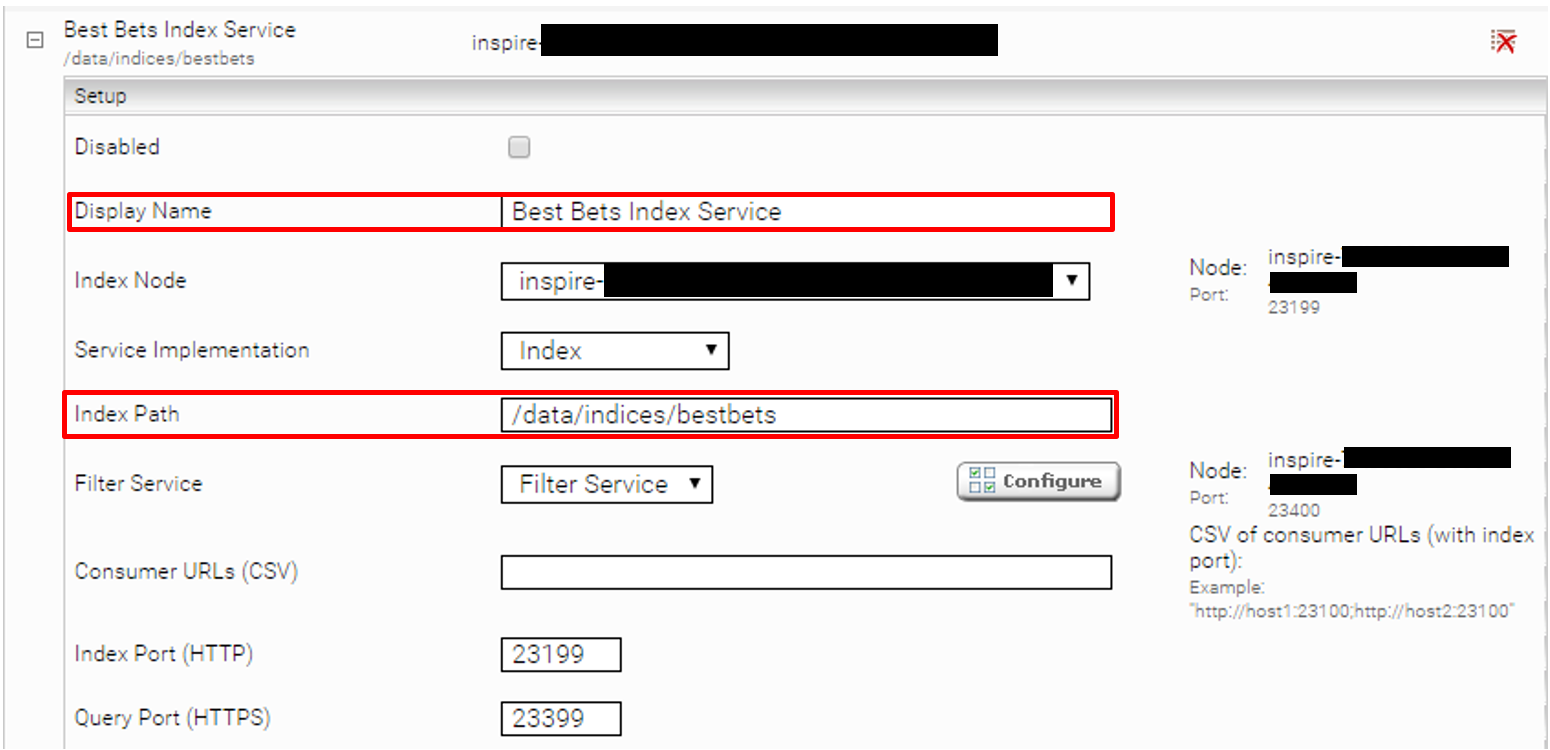 Under Search Experience -> Suggested Sites in the Management Center, you'll find a CSV with information about which results are listed under the Best Bets with which search behavior (if the BestBets-Config plugin was used).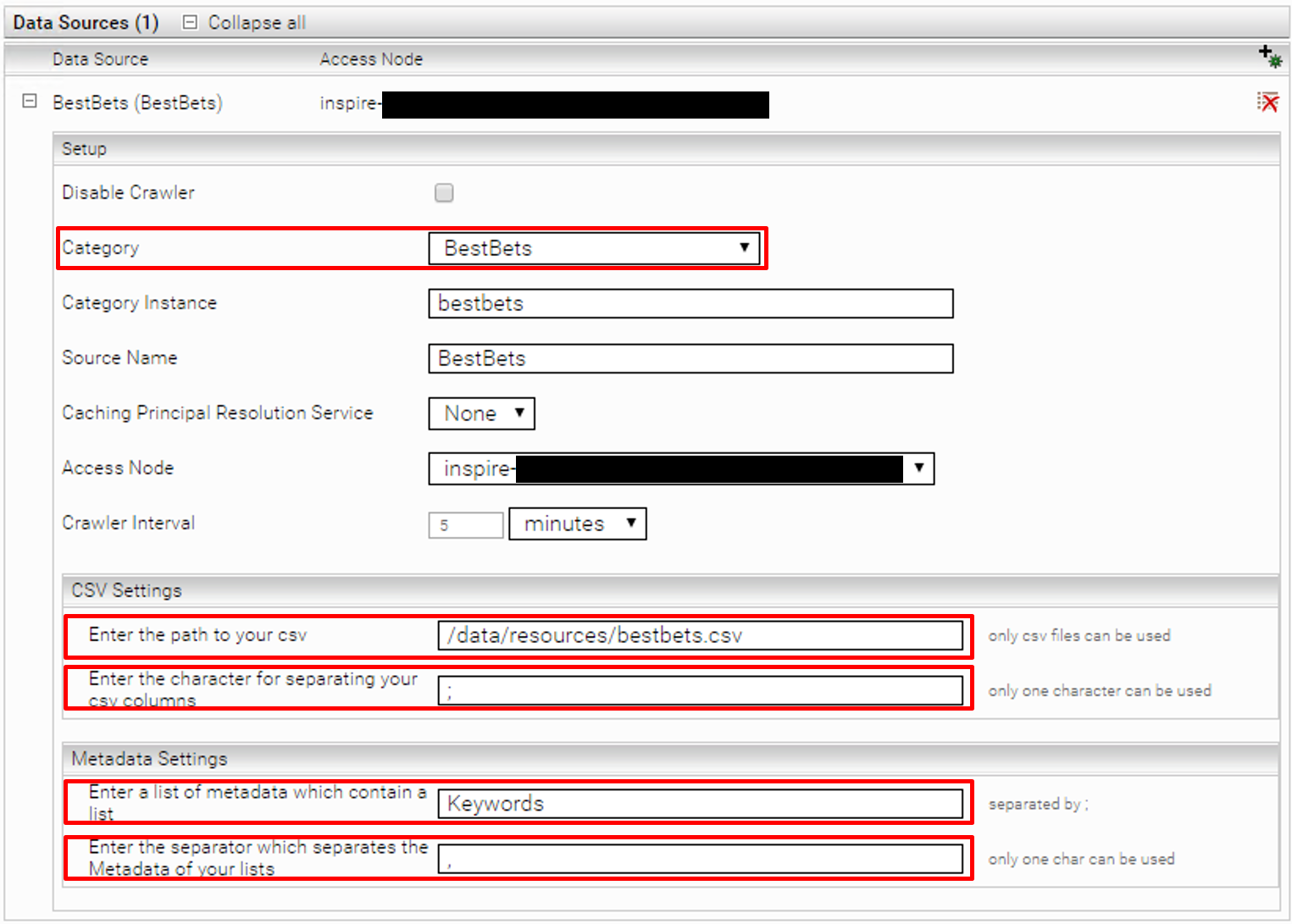 When you have finished the process, a corresponding search will display the title linked with the URL, the OrganizationName and the OrganisationalUnitName. In the Searchable column, you can also specify which columns should be used for the search. You only need to specify the names of the columns that you want to be searchable. In addition, an icon can be added in the Upload column.