Release Notes for Mindbreeze InSpire
Version 23.3
Copyright ©
Mindbreeze GmbH, A-4020 Linz, 2023.
All rights reserved. All hardware and software names used are trade names and/or trademarks of the respective manufacturers.
These documents are strictly confidential. The transmission and presentation of these documents alone do not create any rights to our software, to our services and service results or to any other protected rights. The transfer, publication or reproduction is not permitted.
For reasons of simpler readability, gender-specific differentiation, e.g. users, is omitted. In the interest of equal treatment, the corresponding terms apply to both genders.
Innovations and new features
New component "Number of results" added to Insight App Designer
A new component for displaying the number of search results is now available in the Insight App Designer. The Hit Count component can be added to search results in the Insight App Designer simply by dragging and dropping. This makes it easy to track the number of search results and display them in the desired location within the Insight App.
It is also possible to use this component simultaneously inside and outside of search containers. For example, the following screenshot shows an Insight App where multiple searches are performed simultaneously to generate a 360-degree view of enterprise data. Here, the number of results is displayed individually for each search using the new component.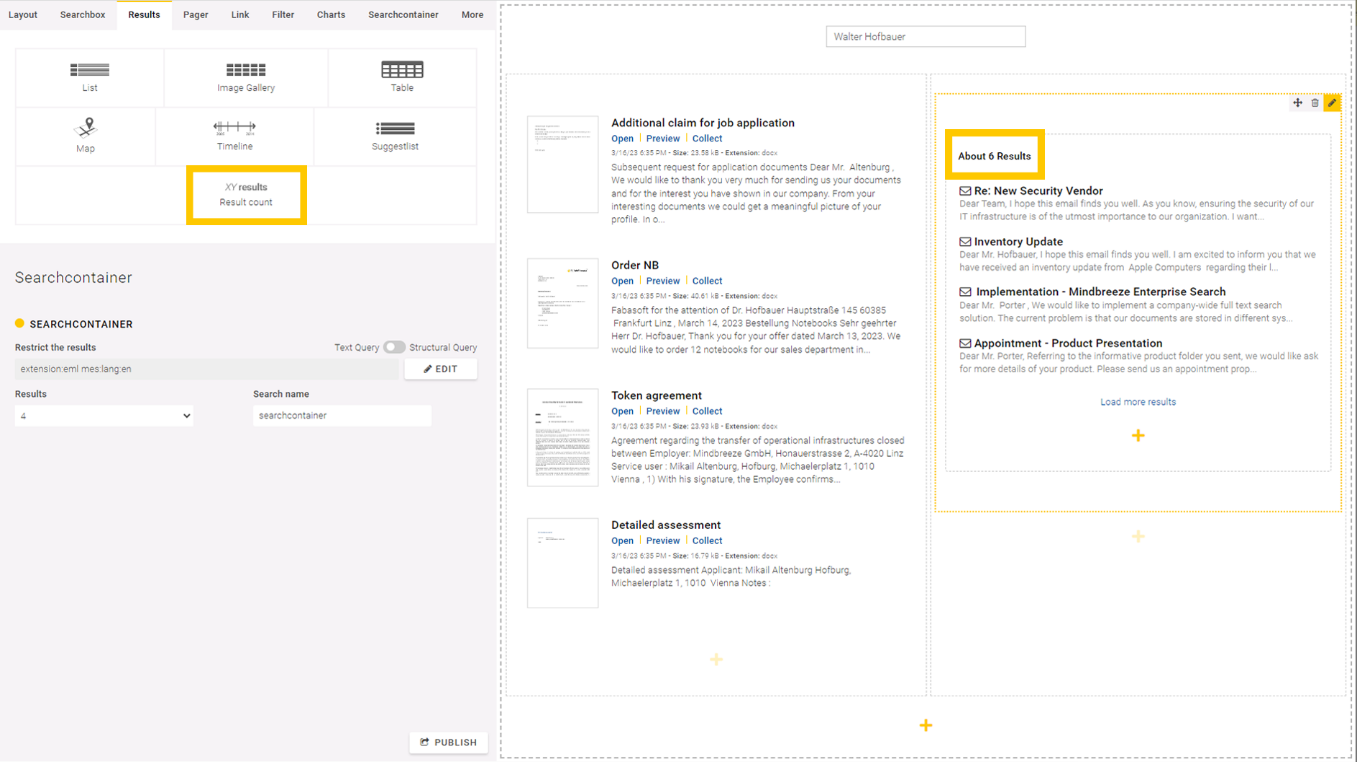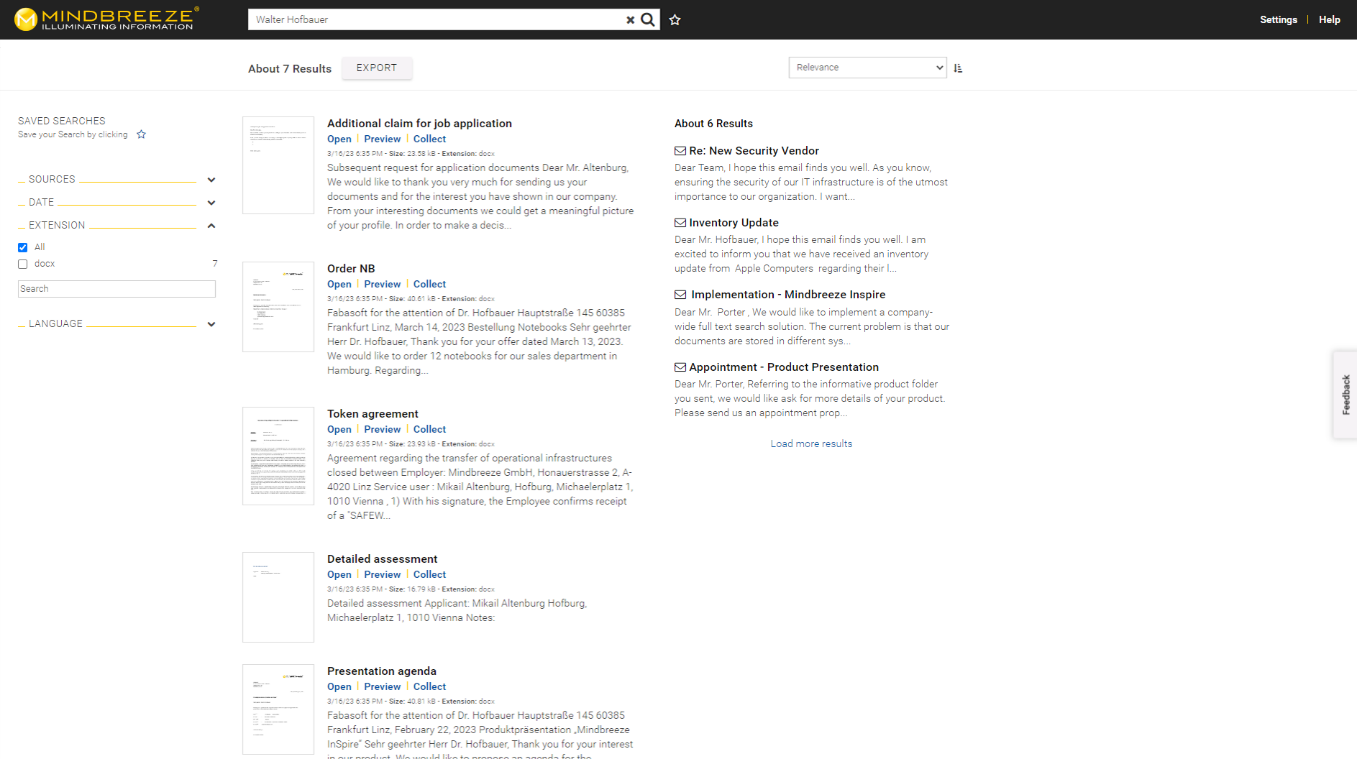 Displaying named entities in the preview
With the "Named Entity Recognition" feature it is possible to recognize entities (e.g. people, places, etc.) from document content and metadata. Since the Mindbreeze InSpire 23.2 Release we support color highlighting of such entities in Mindbreeze Search (see Release Notes 23.2).
With this release, Mindbreeze also supports automatic color highlighting of the detected entities in the preview of the found documents.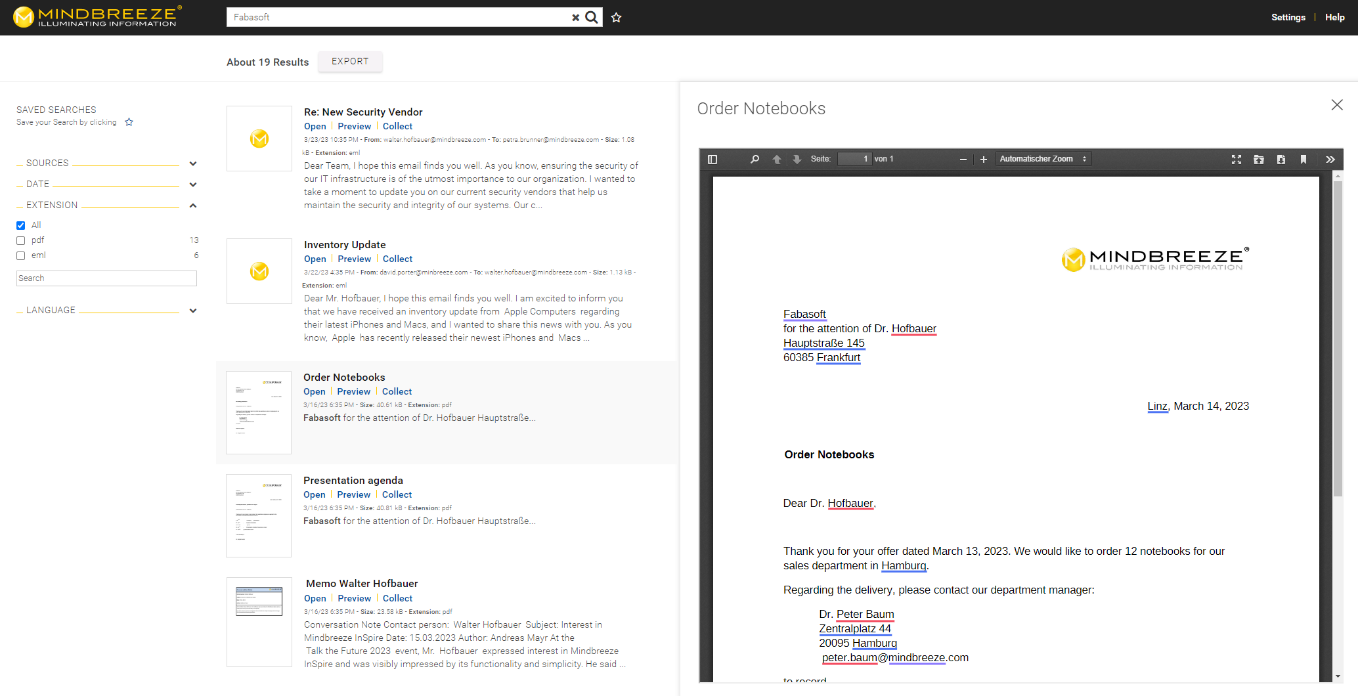 Easy creation of a query pipeline plugin
The Query Pipeline offers the functionality to extend or transform Mindbreeze search queries as desired. This makes it possible to automatically adapt users' search queries to their domain-specific requirements to ensure highly accurate search results. For example, technical terms or special characters with special meanings can be automatically transformed into complex search queries so that users can benefit from the advanced search options without having to understand them.
This functionality is available by creating a plugin with the Mindbreeze Software Development Toolkit (SDK). With Mindbreeze InSpire Release 23.3, the SDK has been extended so that a new query pipeline plugin for the Query Expression Transformer can be easily generated from the SDK. This plugin can then be adapted to your individual requirements.
New and extended connectors
Extension of the supported ServiceNow authorization concepts
The ServiceNow connector now supports "Extended User Criteria" for determining user permissions. When creating User Criteria in ServiceNow, you can also define Extended User Criteria to further restrict access control lists (ACLs). This can be done by customizing the User Criteria with any of the User Reference fields. These security settings of the extended user criteria are now also applied in Mindbreeze Search to support extended permission settings.
Additionally, the access control lists (ACLs) in the ServiceNow connector have been modified to allow users with the "Knowledge Admin" role access to all ServiceNow Knowledge Bases and the articles they contain. Similarly, users with the roles "Owner" and "Manager" are now able to authorize themselves for all knowledge articles in their ServiceNow knowledge bases.
Technical improvements
Keycloak Update
Keycloak is a central component for Mindbreeze and is used, for example, for the authentication of administrators.
In Mindbreeze Release 23.3, Keycloak has been updated to version 21.1.0 (Quarkus).
Security relevant changes
23.3.0.274
Updated: Fedora CoreOS to 37.20230401.3.0 (CVE-2023-1829)
Updated: Keycloak to version 21.1.0
Updated: Chromium version in the Web Connector (CVE-2023-2133, CVE-2023-2134, ...)
Additional changes
23.3.0.274
Added: A sample Query Expression Transformer can now be generated using the Mindbreeze SDK
Added: Entities are highlighted in PDF preview
Added: Estimate result count component in the Insight App Designer
Added: Exact term match option for the Google chrome browser plugin.
Added: Highlighting to search results when searching for non-whitespace separated terms
Added: Jira Crawler setting to ignore Issue Level Security
Added: ServiceNow - Grant Access to Knowledge Articles for Knowledge Admins/Managers/Owners
Added: Sitecore Connector option to store managed metadata with reference-id in addition to the resolved value
Added: Support for Extended User Criteria Conditions
Added: Support for User Criteria relevant System Properties
Added: I18n-Itemtransfromer setting "Canonical Language" to be able to work around an issue with hierarchical metadata filter/facets with certain translations
Fix for: ACL threads not woken up, 1s timeout slowing down the performance
Fix for: app.telemetry TraceModel:undefined in documents servlet instrumentation
Fix for: Application object property requestHeadersAsync is now working for PDF previews also.
Fix for: Bad SearchInResolution Logging Performance due to unnecessary .toString()
Fix for: CachingPrincipalResolutionService – "INTERNALERROR: Timeout occured does not have a thread dump"
Fix for: Index Sync tasks cannot be executed simultaneously
Fix for: Issue where users without roles could get permissions to a document via the Contribute permissions
Fix for: Notification mail functionality broken after product update to 23.2
Fix for: Performance Regression when resolving a lot of INCONCLUSIVE ACLs
Fix for: ServiceNow - Column "Related UC Sys ID" and added Column "HR Criteria Conditions" in HR Criteria Dump
Fix for: SharePoint Online and Coyo - "crawlRun was unsuccessful: RuntimeException: Failed to get delta state from file" (corrupt DeltaState.txt)
Fix for: The direction ascending/descending of the summarize by in the Insight app
Improved: Robustness against connection problems and DFS resolution issues.
Improved: Robustness against connection problems with filter service.
Improved: The Zoho Connector now utilizes multiple threads for fetching documents.
Improved: Usability of Insight App Designer
Improved: Usability of the user input fields