Installation and Configuration
Microsoft Project Connector
Copyright ©
Mindbreeze GmbH, A-4020 Linz, 2023.
All rights reserved. All hardware and software names used are brand names and/or trademarks of their respective manufacturers.
These documents are strictly confidential. The submission and presentation of these documents does not confer any rights to our software, our services and service outcomes, or any other protected rights. The dissemination, publication, or reproduction hereof is prohibited.
For ease of readability, gender differentiation has been waived. Corresponding terms and definitions apply within the meaning and intent of the equal treatment principle for both sexes.
Introduction
Using the Microsoft Project Connector, projects from Microsoft Project can be indexed in addition to your SharePoint On-Premise instance.
Configuring Mindbreeze
Open Mindbreeze Management Center in the browser to start the configuration.
Configuring the index
This connector should be used in combination with the Microsoft SharePoint Connector and should therefore be created in the same index. If you have already created the index for the SharePoint Connector, you can skip this step.
In the Indices tab, add a new index using the +Add Index button. Select the desired Index Node and Client Service and specify the Microsoft Project data source in the Data Source field. Then confirm your entries with the Apply button.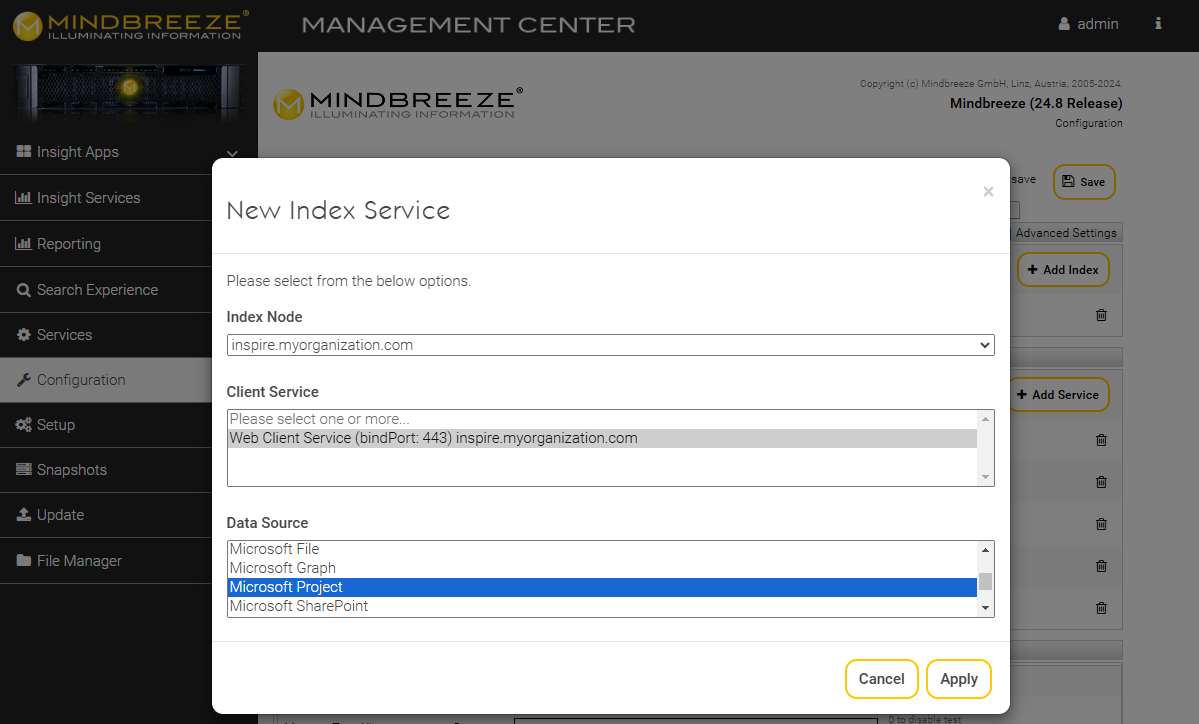 Creating the Crawling Credential
To enable the crawling of Microsoft Project, you first need a crawling user with "Full Read Permissions". You must then create this in the Network tab under the "Credentials" area by clicking on the "Add Credential" button.

After that, the Microsoft Project PWA URL needs to be set as an endpoint for this user.

Configuring the Data Source
Now configure the data source.
Legend:
Properties marked with *: mandatory field, these must be configured explicitly
Properties not specially marked: optional fields
Fields marked with (Advanced Settings) are only displayed if the "

Advanced Settings

" view is enabled in the configuration. This is only necessary in special use cases.
PWA Url*

The URL of the Project Web App, z.B. https://sharepoint.mycompany.com/sites/PWA

Content Metadata*

Name of the metadata to be used as content.
e.g. EnterpriseProjectTypeDescription

SharePoint Category Instance

If this connector is to be linked with the SharePoint Connector so that references to the items of the SharePoint site of the respective project can be set (recommended), this connector must be created in the same index as the SharePoint Connector and the category instance of the SharePoint Connector must be entered here.

Log All Requests
(Advanced Settings)

If this option is enabled, all requests to the Sitecore API are logged in sitecore-request-log.csv.

Number of projects that should be fetch together in one HTTP request.