Release Notes for Mindbreeze InSpire
Version 23.5
Copyright ©
Mindbreeze GmbH, A-4020 Linz, 2023.
All rights reserved. All hardware and software names used are trade names and/or trademarks of the respective manufacturers.
These documents are strictly confidential. The transmission and presentation of these documents alone do not create any rights to our software, to our services and service results or to any other protected rights. The transfer, publication or reproduction is not permitted.
For reasons of simpler readability, gender-specific differentiation, e.g. users, is omitted. In the interest of equal treatment, the corresponding terms apply to both genders.
Innovations and new features
Direct link to the answer in web documents
With the Mindbreeze InSpire 23.5 release, it is now possible to jump directly from the Mindbreeze Search to an answer in an HTML document. This feature makes it easier for users to understand the context of answers from web documents by displaying relevant passages directly on the source web page.
By clicking on the result or the link to the document, Mindbreeze InSpire automatically navigates to the corresponding passage in the source document in a new window. The answer is highlighted in color to make it easier to find. This functionality is automatically applied to HTML documents. Please note that only Chromium-based browsers support this functionality.
app.telemetry usage statistics dashboards now also available for answers
To optimize the search experience, a comprehensive understanding of end-user search behavior by Mindbreeze administrators is essential. The integration of Fabasoft app.telemetry provides administrators with a unified interface to gain valuable insights into user behavior, and to be able to improve the search experience accordingly.
To facilitate the administration of Insight Apps with the NLQA feature, the Insight App Reporting Dashboards have been enhanced. This enhancement enables the automatic visualization of telemetry data for Answers in graphical form. Administrators get a quick and accurate overview of trends as well as end-user feedback and can make targeted optimizations.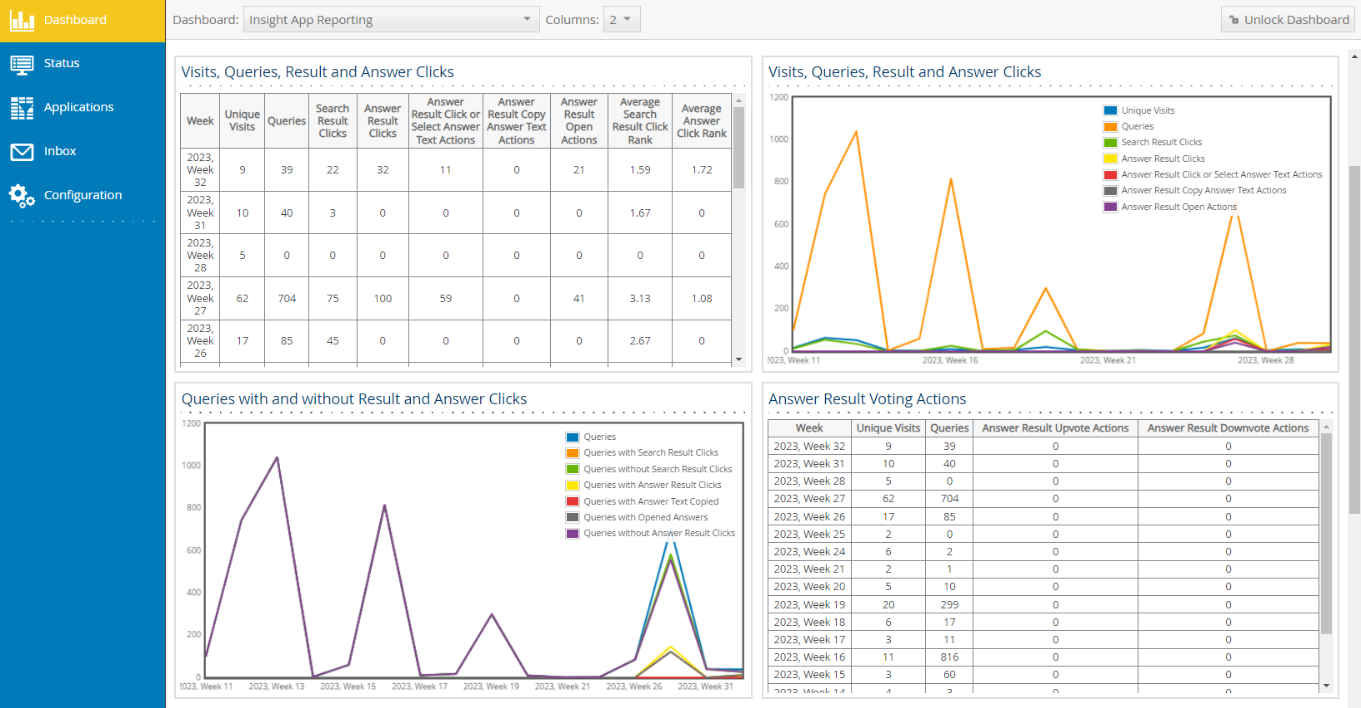 Improved search result highlighting by filtering stop words
With the Mindbreeze InSpire 23.5 release, we have further customized the display of search results to provide you with a better search experience. In the process, the highlighting accuracy in the sample text of search results has been significantly improved for searches using Semantic Search.
Furthermore, it is now possible to suppress the color highlighting of certain stop words in the sample text of search results using stop word catalogs. Predefined catalogs are available and allow for easy configuration. In addition, you have the option to make individual adjustments via user-defined catalogs to adapt the results display to your needs.
New and extended connectors
Principal Resolution Service for OpenText Documentum
Mindbreeze InSpire now offers a Principal Resolution Service for OpenText Documentum. Previously, search users' access permissions were automatically determined via the Documentum Principal Resolution plugin. This required a separate network request to Documentum for each user to confirm the appropriate search permissions.
With the new Documentum Principal Resolution Service, access permissions that have already been determined can now be retrieved directly after the initial cache build. This optimization results in a significant performance increase, as network queries to Documentum are only performed in the background, separately from the search. The result is a more efficient solution that optimizes overall system performance. In addition, this now enables the use of the Remote Connector for OpenText Documentum.
Technical improvements
Performance improvement for Caching Principal Resolution Services
The Mindbreeze Principal Resolution Framework forms the basis for the Principal Resolution Services. By optimizing the Principal Resolution Framework, significant performance improvements in cache building have been achieved. The memory requirements have been significantly reduced meaning building caches is now faster.
Principal Resolution Services automatically benefit from these performance optimizations with the Mindbreeze InSpire 23.5 release.
Verification of the CIS Benchmark Level 1 Profile Requirements
In addition to the already tested U.S. Department of Defense (DoD) Security Technical Implementation Guide (STIG) security guidelines, the Mindbreeze InSpire 23.5 release has now been tested to meet the requirements of the Center for Internet Security (CIS) Benchmark Level 1 profile, which includes product enhancements.
The CIS Benchmark is an established guide that provides prescriptive configuration recommendations for more than 25 vendor products. This benchmark is the result of consensus-based work by cybersecurity experts worldwide. It is used to consistently secure systems against threats and enable a higher level of confidence in security measures.
Security relevant changes
23.5.0.507
Improved: Safety hardening for CIS Level 1
Updated: Chromium to version 115.0.5790.170 (CVE-2023-4068, ..., CVE-2023-3421)
Updated: Fedora CoreOS to 38.230709.3.0 (CVE-2023-0464, ..., CVE-2023-31248)
Additional changes
23.5.1.512
Updated: libcurl to version 7.88.1 due to performance issues introduced in libcurl version 7.87.0 .
23.5.0.507
Added: Expectations can be defined on NLQA answers in query performance tester.
Added: Filter and Datasources are now shown in Management Center with the relevance information
Added: For pdf file you can view the file directly with one click of the open button.
Added: NLQA query statistics are shown in the Insight App Reporting dashboard.
Added: Principal Cache Resolution Service for OpenText Documentum.
Added: Removal of Duplicates in a single Search Request (Page) and correction of counts displayed in the facets when duplicates where removed.
Added: Script to Debug SharePoint-Online Completeness
Added: Software body of material (SBOM) is included.
Added: Stop Word Catalogs can be used to exclude stopwords from highlighting.
Added: Support for ACL precomputation when using Reference ACLs
Added: The answers feature provides open functionality which takes the user directly to the answer source.
Fix for: Did-You-Mean with numbers returns encoded strings instead of the actual numbers in certain cases
Fix for: meshardwareid tool does not return hardware ID when dmidecode is not available.
Fix for: open action is broken for Microsoft file connector results when using client-base.js.
Fix for: Product name and copyright year in Windows binaries.
Fix for: Query Service Termination Cause may be incorrect when using complex regex constraints.
Fix for: The suggested timeout in the Insight App designer.
Improved: Error logging in case of principal resolution cache inconsistencies.
Improved: index status in MMC-Services for distributed operation.
Improved: Logging information if credentials were not configured.
Improved: Logging when setting the internal hostname.
Improved: Optimised performance for document authorisation and ACL precomputing
Improved: Performance improvement in the caching framework during cache update for the majority of all our cache plugins.
Improved: Robustness of download action against connection error.
Improved: sampletexting for answers.
Improved: Sentence Transformation document limit.
Improved: Unify Caching Framework Settings for all Caching Principal Resolution Services.
Modified: Path to adapted CSS in InSight App Designer has been changed.
Updated: Java GRPC Components to 1.56.1
Updated: Java Guava component to 32.1.1