Release Notes for Mindbreeze InSpire
Version 20.5
Copyright ©
Mindbreeze GmbH, A-4020 Linz, 2021.
All rights reserved. All hardware and software names used are trade names and/or trademarks of the respective manufacturers.
These documents are strictly confidential. Transmission and presentation of these documents alone does not constitute any rights to our software, services and service results or any other protected rights. The transmission, publication or reproduction is not permitted.
For reasons of easier readability, no gender-specific differentiation, e.g. users, is made. Corresponding terms apply to both genders in the sense of equal treatment.
Innovations and new features
Usability and design
This release includes a fully comprehensive redesign of the Mindbreeze InSpire user interface. Several changes have been made to both the Mindbreeze InSpire Insight app (formerly "Search App") and the corresponding Insight App Designer (formerly "Search App Editor").
The contemporary design, the newly arranged and redesigned filters, along with the tabs and settings ensure increased user-friendliness and provide an optimized user experience.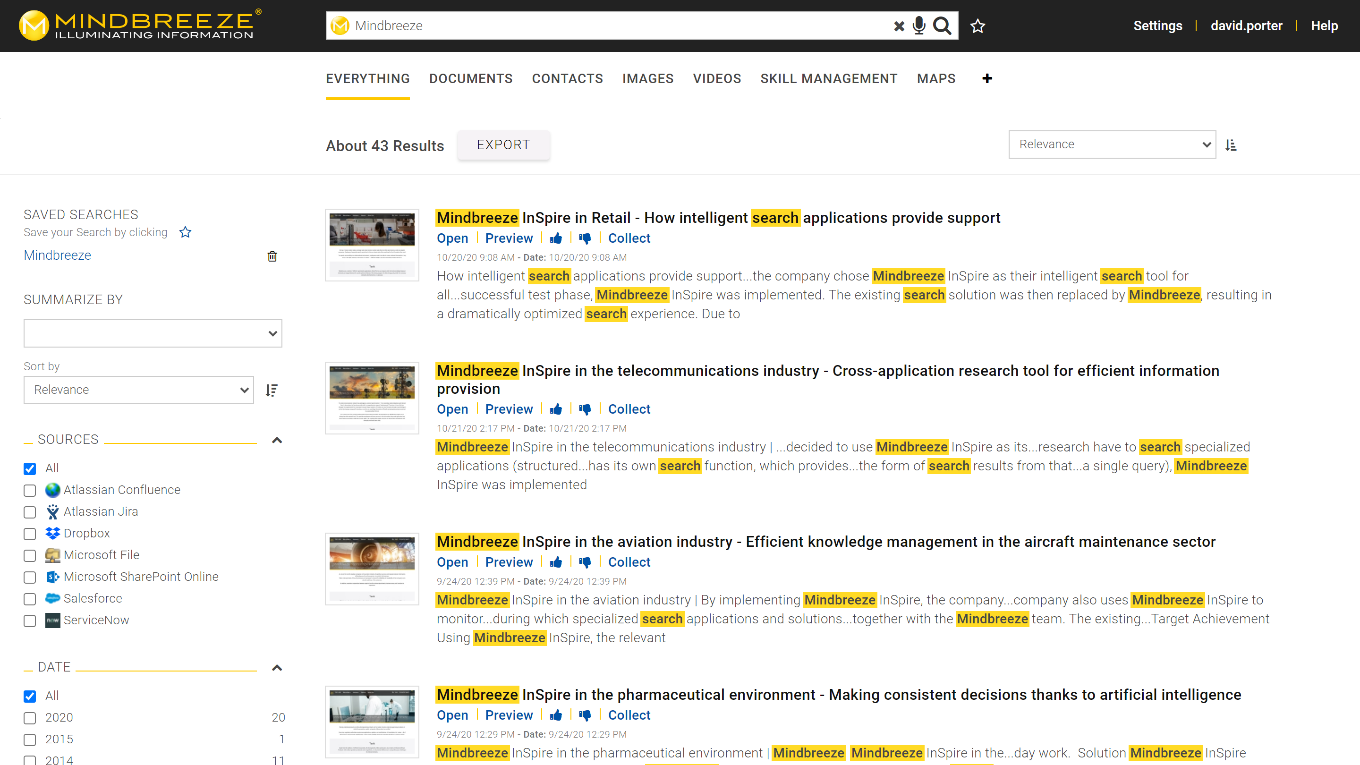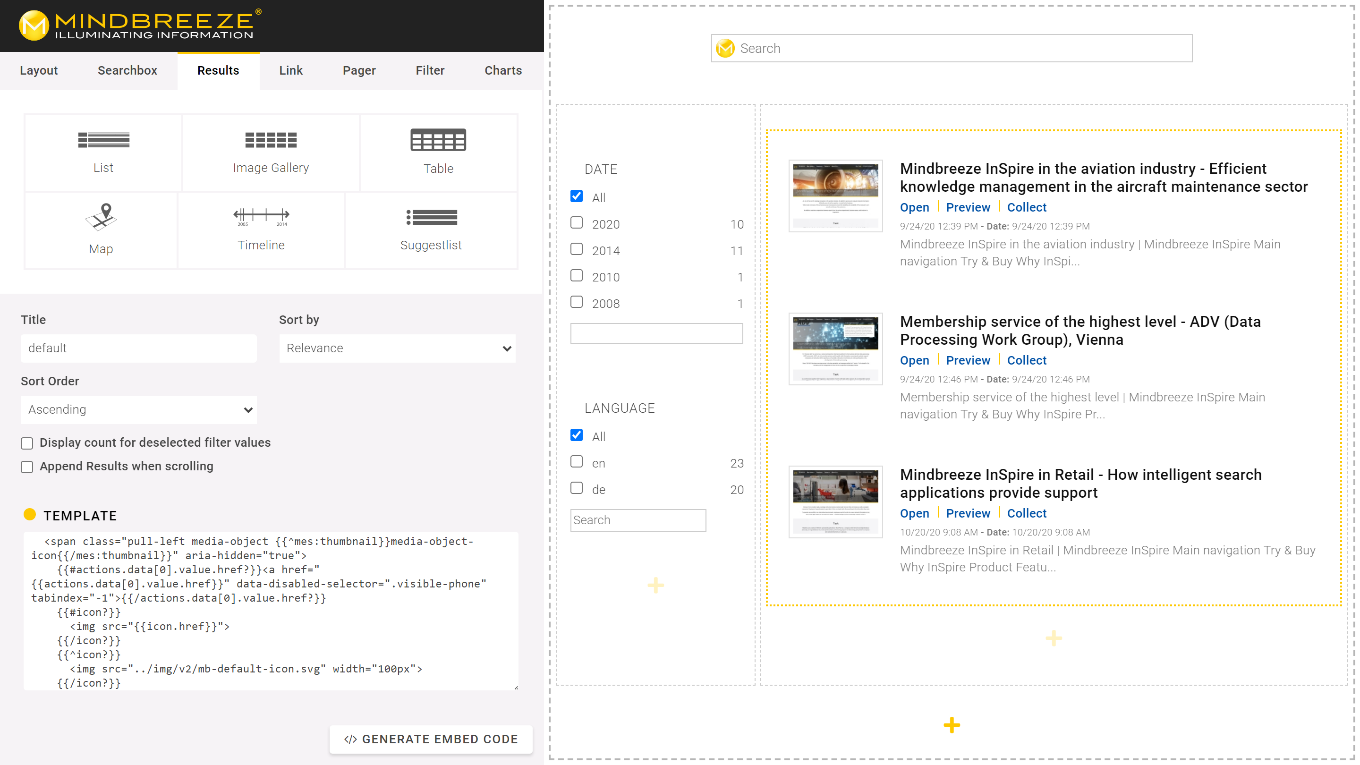 Web Connector supports JavaScript
With the Web Connector, it is now possible to index rendered HTML using JavaScript, if required. This is a prerequisite for indexing and searching in Single Page Apps (SPAs).
Mindbreeze Insight Apps on Microsoft SharePoint Online using Modern Experience
As part of the Mindbreeze InSpire 20.5 release, users have access to improved seamless integration with the SharePoint Online environment.
To use Mindbreeze InSpire Insight apps seamlessly with the SharePoint Online "modern experience" and to override the search functionality on sites or site collections, follow the instructions in our detailed documentation.
Outlook Add-In: MSI Installer for system-wide Installation
In this release, we provide an MSI installer for the Outlook Add-In. This enables administrators to roll out the add-in for a group of users in an automated manner, thus facilitating access to Mindbreeze InSpire.
Extended connectors
Microsoft SharePoint Online Connector: Auto-Discovery of Microsoft OneDrive Sites
The Microsoft OneDrive sites to be indexed are now auto-discovered like the Microsoft SharePoint Online sites as soon as the server URL is a Microsoft OneDrive domain (https://mycompany-my.sharepoint.com).
OpenText Documentum Connector supports Version 16.7
The OpenText Documentum Connector now supports OpenText Documentum version 16.7.
Technical Extensions
Update of InSpire Reporting to Fabasoft app.telemetry 2019
With the update of Fabasoft app.telemetry to version 2019, a new major version upgrade is available for InSpire Reporting.
Advanced sub-word search (prefix, infix)
With an improvement of the masked search functionality it is now possible to find non-space separated words like "Mindbreeze-Search" by searching e.g. for "Mindbreeze-S". This enhanced functionality can be enabled for document metadata and content via configuration.
Map results visualization offers the possibility to display different pin descriptions per result
If several geo-coordinates are available for a result, it was already possible to display all of them in the map visualization. Now there is also the possibility to store different texts for the different pins per result. An example is property lists of several companies with different addresses - now the respective company can be displayed at the pin.
Open Microsoft Office documents via the browser
With the Microsoft File Connector, it is now possible to open Microsoft Office documents such as Microsoft Word, Microsoft Excel and Microsoft PowerPoint directly from the browser.
Restriction of search via Admin Servlets, disabled by default, is restricted to system metadata
To ensure increased data security, the search functionality in the admin servlets, which are disabled by default, is restricted to system data source metadata such as the mes:key, mes:date, mes:lang, mes:size, store:modificationdate, store:creationdate, url, fqcategory, category.
Security relevant changes
20.5.1.945
Fix for: PrincipalResolution Services that use the "Flat Containers"-structure (Notes, Alerting) may return wrong values if the option "Clean Cache after each N updates" is manually enabled
20.5.1.922
Kernel Security Update (CVE-2020-14385, CVE-2019-18282, CVE-2020-10769, CVE-2020-14314, CVE-2020-24394, CVE-2020-25212, CVE-2020-25643, CVE-2020-15436, CVE-2020-35513
glibc Security Update (CVE-2019-25013, CVE-2020-10029, CVE-2020-29573)
sudo Security Update (CVE-2021-3156)
20.5.1.835
G7 Update CentOS Atomic Host to CentOS 7.9 (2009) (CVE-2020-12351, CVE-2020-12352, CVE-2020-10713, CVE-2020-14308, CVE-2020-14311, CVE-2020-14309, CVE-2020-14310, CVE-2020-15705, CVE-2020-15706, CVE-2020-15707, CVE-2019-19527, CVE-2020-12653, CVE-2020-12654, CVE-2020-10757, CVE-2018-20836, CVE-2019-12614, CVE-2019-15217, CVE-2019-15807, CVE-2017-18551, CVE-2019-17053, CVE-2019-17055, CVE-2019-16994, CVE-2019-15917, CVE-2019-16231, CVE-2019-16233, CVE-2019-19046, CVE-2019-19063, CVE-2019-19062, CVE-2019-19059, CVE-2019-19058, CVE-2019-19055, CVE-2019-18808, CVE-2019-19332, CVE-2019-19447, CVE-2019-19523, CVE-2019-19524, CVE-2019-19530, CVE-2019-19534, CVE-2019-19537, CVE-2019-19807, CVE-2019-19767, CVE-2019-20054, CVE-2019-20095, CVE-2020-8649, CVE-2020-8647, CVE-2020-2732, CVE-2020-1749, CVE-2020-9383, CVE-2020-10690, CVE-2020-10942, CVE-2019-9454, CVE-2019-9458, CVE-2020-12826, CVE-2019-20636, CVE-2020-10742, CVE-2020-11565, CVE-2020-10732, CVE-2020-12770, CVE-2020-10742, CVE-2020-10751, CVE-2020-14305)
Update OpenJDK to 8u272 (CVE-2020-14779, CVE-2020-14781, CVE-2020-14782, CVE-2020-14792, CVE-2020-14796, CVE-2020-14797, CVE-2020-14803)
Apache Tomcat update (CVE-2020-11996, CVE-2020-13934, CVE-2020-13935, CVE-2020-8022, CVE-2020-9484)
Keycloak update (CVE-2020-1714, CVE-2020-1728, CVE-2020-10776, CVE-2020-14389)
Apache ZooKeeper Removal (CVE-2018-8012, CVE-2019-0201, CVE-2017-5637, CVE-2016-5017)
Apache Tika update (CVE-2018-11761, CVE-2018-11762, CVE-2018-11796, CVE-2018-1335, CVE-2018-1338, CVE-2018-1339, CVE-2020-1950, CVE-2020-1951)
Apache Ant update (CVE-2020-1945)
Atlassian Crowd update (CVE-2017-18107, CVE-2017-18108, CVE-2017-18109, CVE-2017-18110, CVE-2018-20238 CVE-2019-11580, CVE-2019-15005, CVE-2019-20104, CVE-2019-20902)
Update Bouncy Castle (CVE-2016-1000338, CVE-2016-1000339, CVE-2016-1000341, CVE-2016-1000342, CVE-2016-1000343, CVE-2016-1000344, CVE-2016-1000345, CVE-2016-1000346, CVE-2016-1000352, CVE-2017-13098, CVE-2018-1000613, CVE-2018-5382)
Apache Commons BeanUtils update (CVE-2014-0114, CVE-2019-10086)
Xalan-Java update (CVE-2014-0107)
Apache POI update (CVE-2017-12626, CVE-2019-12415)
OpenSAML update (CVE-2013-6440)
Batik update (CVE-2018-8013,CVE-2019-17566)
GrpcCore.dll update (CVE-2020-7768)
Unused jquery.min.js and require-jquery.js removed (CVE-2015-9251, CVE-2019-11358, CVE-2020-11022, CVE-2020-11023)
jQuery and Bootstrap update (CVE-2018-14040, CVE-2018-14041, CVE-2018-14042, CVE-2019-8331, CVE-2020-11022, CVE-2020-11023, CVE-2015-9251, CVE-2019-11358, CVE-2012-6708)
Apache HttpClient update (CVE-2020-13956)
Jackson Databind update (CVE-2020-25649)
Apache Commons Collections update (CVE-2015-6420 CVE-2017-15708 CVE-2015-6420)
Google Guava update (CVE-2018-10237)
not-yet-commons-ssl update (CVE-2014-3604)
OpenSSL security update (CVE-2020-1971)
XSS in Management Center in Search Apps>Users
jQuery update (CVE-2020-11023)
Additional changes
20.5.1.970
Fix for: Managementcenter and adminapi do not start when the log directory is removed
Fix for: Memory leaks found with Address Sanitizer
Fix for: Timeout is not set correctly
Fix for: Document that only have DENY ACEs and ACL references cannot be found
20.5.1.945
Fix for: PredictionService linearkernel error on binary classification
Jive Principal Resolution Cache: AllUsersIncludingContainers set should be cached in RAM
Jive Principal Cache: LDAP parent cache can be used
Fix for: External filter requests to /indexserver are rewritten incorrectly
Support for AES-GCM encryption in SAML (e.g Shibboleth 4.0 IDP)
Mimalloc options segment_reset and abandoned_page_reset are enabled by default
20.5.1.922
Fix for: Index crash in groupbypropertyexpr
Fix for: Not thread safe message construction in `MesCore::Exception::what()`
20.5.1.907
Fix for: Crash when removing in use reference on mes:identity
Alternative memorz allocator mimalloc is available for Windows
libgomp is available
20.5.1.877
Added information on selected filters to the reporting API
Fix for: Wrong Authenticator and Certificate selected when importing DEV-Snapshot
Fix for: SAML IDPs from different domains do not work with default CORS settings
Fix for: Missing translation in Insight Apps Editor "editor_result_allow_symbolic_path"
Fix for: Third party click event Handler do not receive events
Fix for: API Contraints are truncated
Fix for: Principal Resolution Cache Health Check: default timings are too strict
retryFailedRequest function for updated headers via application options
Deactivation of restriction for privileged servlets of the prediction service
SharePoint Online: Skipping Item that return HTTP-500
SharePoint Online: Check for Role Updates
Fix for: SharePoint Online: NullPointerException wen updating ACL settings
SharePoint Online: Optimized delta updates of lists
SharePoint Online: Improved documentation
20.5.1.835
Crawler based on Commons Crawler (Web, AuthorizedWeb) supports ACL references in sitemap.
Fix for: ACL Internalization ID ambigous - yields wrong ACL Cache Outcomes
Python3 Poetry for reproducable builds
Optimization of Precomputed ACLs
Fix for: unrelated facet entries have the same state
Fix for: backup-logs-and-cleanup.sh does not clean up old empty directories
Fix for: `handleShortcuts` perordical actions: Feedbacks (via app.telemetry) sometimes do not contain the relevant search-request
Late Session timeout - User activity detection in MMC
Automatically update app.telemetry log definitions
Query transformation Plugin for "labled term" using reference to Subquery-Transformation
Dynamics 365 Connector: Support for external ADFS IDP
GSA Search Request Response Transformer: Escape special characters in aggregations
Fix for: BestBets: ExactMatch query transformer accepts non-numeric characters
Removal of deprecated resources: api/styles
Caching Principal Resolution Service uses Tomcat instead of embeddedhttp
Confluence Sitemap Generator: Support for Delta-Sitemaps
Option to export von relevance information
SharePoint Online Connector: Improved principal resolution with Microsoft AAD Graph API
Fix for: Diacritic search does not work for all characters
Fix for: ClientService does not restart automatically when a Category Descriptor is uploaded
Removal of deprecated option query.View.enable_rounded_estimated_count. Use query.SearchRequest.enable_rounded_estimated_count instead
Stemmer Transformer: Option to exclude certain words from stemming
Fix for: BestBets Query Transformation: If search term with PhraseMatch is a substring of a KeywordMatch search term, the latter is returning too for matching searches
SharePoint Online Connector: Index Author of List Items as Metadata
Fix for: Personalization: this.options is undefined in getValueFromPersonalizationProperties
Fix for: alternative/user_query block is no longer contained in search response
Fix for: Sorting does not work when using summarize_by
SAML IDP Konfiguration: if ID attribute is available in Entity Descriptor it should be copied to the entity_descriptor_ID
Index: Add ACL Restrictions to Authorization Service Requests
SharePoint Online Connector: robust site discovery when crawlig with limited permissions
Filemanager: Restricted permissions
Fix for: CI/CD Development snapshot migration overrides Client Service authenticatorid attribute also if authenticators are exempted from snapshot
Improve error handling for embedded search apps using SAML authentication and popup login
Fix for: Export of results with a search query using computed_properties leads to incorrect results
Action-Type (preview|openHref) is used in queryprofiler
Full text search is restricted to the system metadata in privileged admin servlets (/find, /aggregate)
Fix for: resolvePrincipal timeout is cached
Client Service: JWT authentication support for Azure Active Directory
Fix for: Multiple triggered actions for href="#" on A-tags
Fix for Client Service:Error Request Header Or Cookie Too Large when using SAML with the internal Keycloak
SharePoint Online: Improve performance when API is throttling
Mindbreeze Client: use SVG-Logo
Fix for: Filesystem Manager logs verbose checking of permissions