Gesammelte Ergebnisse
Installation und Konfiguration
Copyright ©
Mindbreeze GmbH, A-4020 Linz, .
Alle Rechte vorbehalten. Alle verwendeten Hard- und Softwarenamen sind Handelsnamen und/oder Marken der jeweiligen Hersteller.
Diese Unterlagen sind streng vertraulich. Durch die Übermittlung und Präsentation dieser Unterlagen alleine werden keine Rechte an unserer Software, an unseren Dienstleistungen und Dienstleistungsresultaten oder sonstigen geschützten Rechten begründet. Die Weitergabe, Veröffentlichung oder Vervielfältigung ist nicht gestattet.
Aus Gründen der einfacheren Lesbarkeit wird auf die geschlechtsspezifische Differenzierung, z.B. Benutzer/-innen, verzichtet. Entsprechende Begriffe gelten im Sinne der Gleichbehandlung grundsätzlich für beide Geschlechter.
Einführung
Gesammelte Ergebnisse können verwendet werden, um über mehrere Suchen hinweg eine Liste von Ergebnissen vorzuhalten. Zum Hinzufügen wird die Aktion "Sammeln" bei den Treffern verwendet:

Ohne weitere Konfiguration wird die Liste wieder zurückgesetzt, sobald die Insight App neu geladen wird. Seit Version 2017 Summer Release kann die Liste pro Benutzer dauerhaft gespeichert werden.
Vorbereitung zum dauerhaften Speichern
Datenbank erstellen
Um Gesammelte Ergebnisse dauerhaft speichern zu können, muss eine Datenbank dafür vorhanden sein. Diese Datenbank könnte bei Ihnen bereits vorhanden sein.

Tipp: So können Sie eine Datenbank anlegen:
create database notifications;
CREATE USER user WITH PASSWORD 'password';
grant all privileges on database "notifications" to user;
Konfiguration
Die Einstellung dafür findet man in der Konfiguration unter "Client Services".
Resource Persistence Settings
Sollten Sie diese Einstellungen bereits vorgenommen haben, können sie dieses Kapitel überspringen.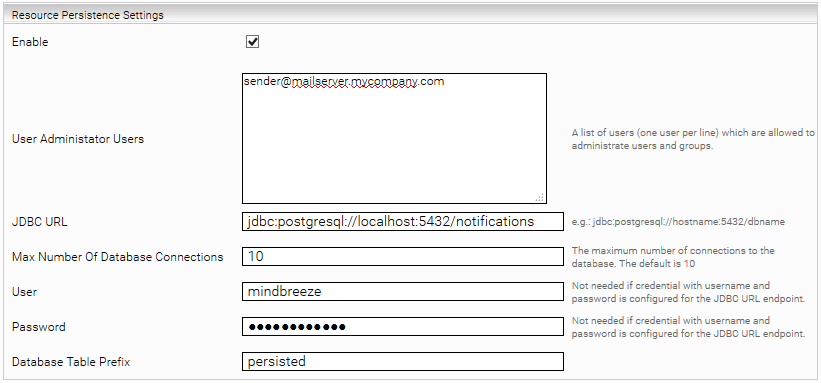 Einstellungen:
Enable: Aktiviert die Persistierten Ressourcen – Standardwert: false
User Administrator Users: Angabe der User Administratoren.
User Administratoren können alle User verwalten (löschen, bearbeiten (z.B. E-Mail Adresse bearbeiten), hinzufügen). Jeder User wird in einer neuen Zeile eingetragen.
JDBC URL: Angabe der Datenbank URL.
Max Number Of Database Connections: Maximale Anzahl der Datenbankverbindungen. Standardwert: 10, Minimalwert: 2.
User: Angabe des Benutzers zur Datenbank.
Password: Angabe des Passworts zur Datenbank.
Database Table Prefix: Angabe des Tabellen-Prefix in der Datenbank.
Aktivieren
Zum dauerhaften Speichern der gesammelten Ergebnisse, aktivieren Sie die Option "Store in Persisted Resources" im Abschnitt "Collected Results",
Verwenden von mehreren Collections
Möchten Sie für unterschiedliche Insight Apps auch unterschiedliche gesammelte Ergebnisse speichern, können Sie eine neue "Collection" anlegen und diese unter "Persisted Collection Path to save Collected Results to" eintragen.
Einstellungen:
Store in Persisted Resources: Aktiviert das dauerhafte Speichern der gesammelten Ergebnisse – Standardwert: false
Persisted Collection Path: Pfad der im Standardclient zu verwendenen Collection – Standardwert: favorites/default
Einstellungen bei Collections:
Name: Name der Collection
Path: Pfad der Collection; muss mit favorites/ beginnen und darf keine Sonderzeichen enthalten