LDAP Connector
Installation und Konfiguration
Copyright ©
Mindbreeze GmbH, A-4020 Linz, .
Alle Rechte vorbehalten. Alle verwendeten Hard- und Softwarenamen sind Handelsnamen und/oder Marken der jeweiligen Hersteller.
Diese Unterlagen sind streng vertraulich. Durch die Übermittlung und Präsentation dieser Unterlagen alleine werden keine Rechte an unserer Software, an unseren Dienstleistungen und Dienstleistungsresultaten oder sonstigen geschützten Rechten begründet. Die Weitergabe, Veröffentlichung oder Vervielfältigung ist nicht gestattet.
Aus Gründen der einfacheren Lesbarkeit wird auf die geschlechtsspezifische Differenzierung, z.B. Benutzer/-innen, verzichtet. Entsprechende Begriffe gelten im Sinne der Gleichbehandlung grundsätzlich für beide Geschlechter.
Installation
Bevor der LDAP Connector installiert wird, muss sichergestellt werden, dass der Mindbreeze Server bereits installiert und dieser Connector auch in der Mindbreeze Lizenz inkludiert ist.
Benötigte Rechte für den Crawling User
Der LDAP Connector erlaubt ein Crawlen und Durchsuchen von Objekten in einem LDAP-Verzeichnis wie z.B. Active Directory.
Um diese Objekte crawlen zu können, braucht der Benutzer Leserechte.
Konfiguration von Mindbreeze
Klicken sie auf "Indices" und auf das "Add new index" Symbol um einen neuen Index zu erstellen.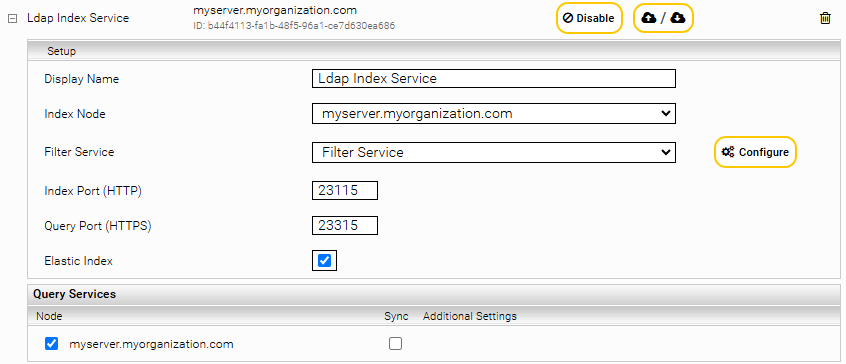 Eingabe eines neuen Index Pfades z.B, "/data/indices/ldap". Falls notwendig muss der Display Name des Index Services und des zugehörigen Filter Services geändert werden.
Mit "Add new custom source" unten rechts kann eine neue Datenquelle hinzugefügt werden.
Konfiguration der Datenquelle
LDAP Connection
Folgende Parameter müssen konfiguriert werden:
LDAP Server Hostname

: z.B. dc.mycompany.com

Port

: Default LDAP Port (389)

Authentication Type

:

Simple

: (Default) Die Angabe des Benutzername und Passworts ist notwendig.

Anonymous

: Keine Benutzerdaten notwendig

Username

: Benutzername im Distinguished Name Format.

Passwort

:

Connection Method

:

LDAP Search Base

: Definiert wo LDAP gecrawlt wird. Z.B. DC=mycompany,DC=com

Search Filter

: Definiert welche Objekte gecrawlt werden sollen. Z.B. (&(objectClass=organizationalPerson)(!(objectClass=computer)))

Udpate Sensitive Attributes

: Nur Änderungen dieser Attribute führen zum Neuindizieren des LDAP Objektes. Die Änderungen aller anderen Attribute werden von Crawler ignoriert.

Performance Settings
Synchronize with Index on Startup: Der crawler speichert lokal seinen Zustand vom letzten Lauf. Dadurch wird das abgleichen einzelner Dokumente im Index mit denen vom LDAP Server vermieden, um eine Änderung zu erkennen. Manchmal wegen Transport oder Filter Problemen kann es passieren, dass dieser Zustand vom index abweicht. Um diese Abweichung zu korregieren ist die "Synchronize with Index on Startup" Option auszuwählen.